We have dug up a number of new covers to upcoming releases for you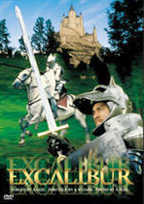 We have been able to obtain cover artwork for some upcoming titles from Warner Home Video and MGM Home Entertainment which we would like to present to you.
Warner's titles includes films like the knight-in-shining-armor movie "Excalibur", Doris Day's "The Pajama Game", the animated feature "Thumbelina" and others. Please click here for a look at these covers.
We have also been able to get our hands on the covers for some of MGM Home Entertainment's upcoming titles, like killer-doll Chucky's first strike "Child's Play", but also George Romero's "The Dark Half" and others. Make sure to click here to check out these covers from MGM.