Warner sends the Creepshow, Salem's Lot and other titles your way in October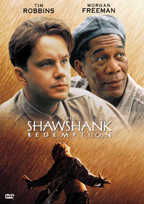 Warner Home Video is preparing a number of titles for release on October 12. Although some sources claim Shawshank Redemption would finally be part of this October 12 line-up, the title still has some issues and may once again find a delay.
There are a few titles however that are coming on October 12, including George A. Romero's Creepshow, an episodical homage to EC Comic's "Tales From The Crypt" comics, written by Stephen King. And while we're speaking of King, Salem's Lot, the full length TV miniseries based on Stephen King's novel is also part of Warner's line-up that hits retail just in time for Halloween.
The House On Haunted Hill starring Vincent Price is also making its way to DVD on October 12 in a brand new remastered version, as well as Bonfire Of The Vanities, starring Tom Hanks, Melanie Griffith and Bruce Willis. Another film to be released on October 12 is Coma, Michael Crichton's thriller starring Michael Douglas and Genevieve Bujold.
With the exception of "Salem's Lot", which contains a fullframe transfer, all these titles will be presented in 16×9 enhanced widescreen transfers as well as fullscreen presentations.
For your viewing pleasure we have prepared the cover artwork for these titles on this separate page.