Universal Home Video is adding four more titles to their DVD catalog this October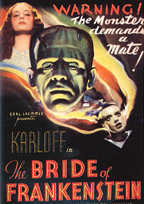 A number of new title announcements from Universal Home Video just showed up, slated for release on October 19. As we had pointed out some time ago already, Universal is bringing The Bride Of Frankenstein to DVD in a release that contains an audio commentary by film historian Paul M. Jensen and an original documentary by filmmaker David J. Skal, called "Mummy Dearest: A Horror Tradition Unearthed". The disc will also feature extensive production notes and talent biographies.
As announced earlier, also part of the line-up is Eddie Murphy's Life in a 16×9 enhanced widescreen version with a 5.1 Dolby Digital soundtrack, trailer, production notes and talent biographies.
Universal is also starting to create box set for their DVD releases now, starting with a Marx Brothers Box containing "Duck Soup", "Animal Crackers" and "Horse Feathers" through Image Entertainment on October 12. Another box set slated for release on October 19 through Universal Home Video is The Hercules Collection. The yet-to-be-priced box will contain all four previously released discs assembledtogether, namely "Hercules: The Legendary Journeys", "The Xena Trilogy", "Hercules & Xena – The Animated Movie" and "Young Hercules".
Last but not least, we will see the third incarnation of Jim Carrey's outstanding Liar Liar. Yes, finally a 16×9 enhanced widescreen version of this comedy will come to DVD on October 19. Released as a Collector's Edition at $34.95, this release will also contain an audio commentary by director Tom Shadyac, an original featurette called "Bridging the Comedy Chasm", featuring interviews with Tom Shadyac, Jim Carrey, Brian Grazer, and behind-the-scenes footage shot on location. As other supplements this Collecotr's Edition will contain production photographs, original advertising concepts and campaigns, production notes, talent biographies and the film's original theatrical trailer.
Well, while there's a lot of warmed-up stuff in that release batch, it is easily compensated for by the restored version of "Bride Of Frankenstein", which is clearly a highlight that stands out.