The Matrix flies into your living rooms on September 21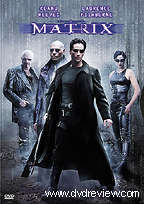 Much wild guessing has been going on around the Internet for the past weeks and hardly any title has created as much advance buzz as The Matrix which will finally hit DVD and VHS on September 21. While the film will be released for rental only on VHS, DVD will once again have the benefit of being the first format that allows you to actually own the film at an attractive sell-through price of $24.98.
The futuristic thriller starring Keanu Reeves and Laurence Fishburne remained at the top of the box-office charts this early summer for several weeks and was the first true blockbuster of 1999. Now DVD owners will have the chance to learn more about the film, its origins and the wizardry behind-the-scenes in Warner Home Video's upcoming DVD special edition.
The disc will contain a 16×9 enhanced transfer with a Dolby Digital 5.1 soundtrack and will also feature audio commentaries by actress Carrie-Anne Moss, editor Zach Staenberg and visual effects supervisor John Gaeta. The release will also feature a large number of supplements like the documentary "Follow The White Rabbit", a multi-angle presentation that is dedicated to show off the art of the movie.
The disc will also initiate viewers in the secrets of the special effects from the movie in a number of featurettes like "Making The Matrix", "What Is Bullet-Time" and "What is the Concept?" where you will be able to take an in-depth look at the many special effects of the film. Another novelty of "The Matrix" DVD will be a movie-themed quiz which will show you selected scenes from the film and then asks trivia questions. A feature "From Script To Screen" will give you a better understanding of the movie as it analyzes the film's meaning and background. Rounded up with an isolated Music Score with Commentary by Composer Don Davis, a still photo gallery containing 700 images, this DVD will certainly make every fan of "The Matrix" awaiting this DVD release in anticipation.