Take a look at the menu screen for Universal's The Mummy with us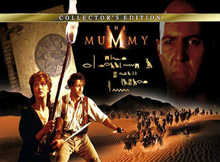 A little while ago we have received an early copy of Universal Home Video's upcoming Collector's Edition of this summer's blockbuster The Mummy starring Brendan Fraser and Arnold Vosloo.
To us it seems a bit too early to review the title since the actual release of the DVD is still five weeks away. Of course we will have a full, in-depth review ready for you before the disc hits the streets, but for now we thought it would be more fun to show you some of the stunning menu screens the disc has to offer. Fully animated and completely in theme with the movie, these menu screens are some great pieces of art and fun to watch!
Click here for a look at a number of these menu screens, including Universal's "Egyptology 101", a section you will need in order to be able to decypher the disc's elaborate menus.