Take a look at the entire packaging of The Matrix – front, back, inside!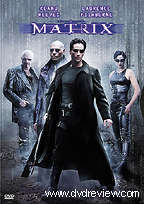 We have been able to dig up some images from the packaging of Warner Home Video's highly anticpated The Matrix. Take a look at the back of the packaging, as well as all the fold-out flaps on the inside with us.
Warner's special edition of the film will contain a 16×9 enhanced transfer with a Dolby Digital 5.1 soundtrack and will also feature audio commentaries by actress Carrie-Anne Moss, editor Zach Staenberg and visual effects supervisor John Gaeta. The release will also contain a large number of supplements like the documentary "Follow The White Rabbit", a multi-angle presentation that is dedicated to show off the art of the movie, as well as many other exciting bonus features.
Please click here so we can take you to the page where we keep these gems for you!