Take a look at Jackie Chan's Operation Condor 2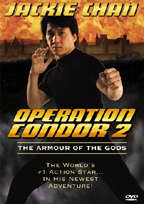 Buena Vista Home Video has just sent along the cover artwork for their upcoming DVD of Jackie Chan's Operation Condor 2: The Armour Of The Gods.
The film with the original Cantonese title "Lung hing foo dai" is a 1986 action/comedy spectacle with the charismatic martial arts superstar. Jackie Chan plays an ex-singer-turned-fortune-hunter, who's ex-girlfriend is kidnapped by an evil cult. Her fiance, an old friend of Jackie's, turns to him for help – just as the kidnappers intended…
The interesting thing about this release is that "Operation Condor 2" actually hit theaters four years before "Operation Condor". Unfortunately this version of the Hong Kong film has been reworked by Dimension Films for American audiences and cut out some original footage, including appearances by Hong Kong legends Anthony Yau and Kenny Bee. The original Hong Kong version of the film should still be available as a costly direct import.
Nevertheless, "Operation Condor 2: The Armour Of The Gods" will be a highlight for all Jackie Chan fanswhen it finally comes to DVD as a domestic release on September 14, together with "Operation Condor". Please click on the cover to the left for an enlargement of the packaging art.