Some exciting news about the Power Rangers DVD has surfaced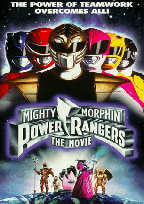 We have just received more information on the development of the Mighty Morphin Power Rangers: The Movie DVD release, as we had reported some time ago. The DVD is currently developed by Haim Saban himself using many of the resources and connections he has to contribute to the project, but unfortunately still has no definite publisher, mostly because Saban wants to ensure a certain commitment to the project from the publisher he will be going with.
As reported earlier the film will come in a 16×9 widescreen presentation with plenty of supplements, including a 30-minute "Making Of" documentary, a Power Rangers DVD ROM game that was supposed to be released as a CD ROM game two years ago, never-before-seen footage and much more. Now new details have surfaced and we do not want to miss the chance to share it with you.
Haim Saban is trying to have to commentary tracks on the disc, although the second one with the film's talents has not been confirmed yet, mostly because the actors haven't committed to it yet.The director/producer's commentary will utilize the angle function however so you can overlay a window in the film that allows you to watch them speak as the film goes along. I believe it's the same way Universal's Collector's Edition of "Mallrats" presented parts of the commentary. If actors can be confirmed, they might be the ones on the video commentary. Currently Saban is evaluating whether it is possible to create two video commentaries so that both of them could make use of that particular feature.
Most of the attention is currently paid to DVD's multi-angle capabilities at Saban. He wants to have all of the fight scenes to feature multi-angle because for some fight scenes, all the actors were shot for the duration of the fights, but edited together to feature the most prominent stunts. For example, you may see the white ranger fighting, but in the background is the blue ranger. The multi-angle capability in this case could give you the chance to feature a close up of the blue ranger, or even other ranger stunts off-screen. A lot of research is currently being done at Saban to see how far DVD's multi-angle capabilities and video overlays can be taken to accommodate these cool features.
Saban is also gathering plenty of footage for extras, and a gag reel shown at the premiere that will be included on the disc. Still hoping to have the disc out by Christmas, the second film, Turbo: A
Power Rangers Movie has been put on hold until after the special edition of the first one. Then however, chances are that we will also see a few of the TV shows released on theme DVDs.