MGM Home Video iginites your screen for the second time in Carrie 2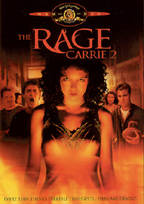 MGM Home Entertainment has just announced that Carrie 2 will come to home video on October 12. Day & date with its VHS version, the DVD will carry a suggested retail price of $24.98 and present "Carrie 2" in a 16×9 enhanced widescreen version.
In this rather loosely related sequel to Brian De Palma's acclaimed horror thriller that was based on Stephen King's break-through novel, Rachel is just another high school outcast who wants to survive her senior year without embarrassment. But unfortunately, she gets caught in the middle of a scandal when a prank — orchestrated by a group of over-sexed jocks — turns deadly. Once the police bring one of them in for questioning, the jocks target Rachel for squealing, hatching a devious scheme to publicly humiliate her. However, messing with Rachel is worse than playing with fire, for her temper is crossed it triggers a powder-keg of anger that unless special powers that can turn a fun-house party into a mad-house inferno.
The disc will boast an audio commentary track by director Katt Shea, and contain an alternate ending to the film, as well as numerous deleted scenes and the movie's original theatrical trailer. Please click on the image to the left to see an enlarged version of this DVD's cover artwork.