Image Entertainment is bringing more Euro horror to DVD with two new product lines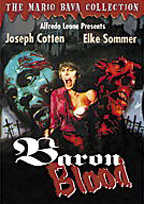 Image Entertainment just announced two new lines of DVD releases to expand their cult and horror film catalog.
The EuroShock Collection will feature classic and contemporary horror and exploitation films. The Mario Bava Collection spotlights titles from one of the most respected and imitated directors of European horror cinema. Films selected for both collections are distinguished by their unique tone and content and are very different from American horror films of the same time period.
The EuroShock Collection, very much liek their Redemption line will present uncut British and European horror films to American audiences who may be unfamiliar with the particular films or the history of the genre. The first DVD title to be released in the collection is the 1960 sexploitation/horror film "The Playgirls and the Vampire," directed by Piero Regnoli, which will be followed in subsequent months by horror and cult films from the 1950s to the 1980s, such as "I Vampiri," "And Now theScreaming Starts" and "Asylum" from England's Amicus Studios, the "thinking man's"" undead tale "Zeder," from Italian director Pupi Avati, several exploitation films from British director Pete Walker, the occult biker film "Psychomania, and a remastered, widescreen edition of "Horror Express," starring Peter Cushing and Christopher Lee.
The Mario Bava Collection presents eight films from the late Italian director and cinematographer's body of work, with the respect that a groundbreaking filmmaker deserves. Acclaimed as a major influence by many American and European directors, the films of this pioneer of Italian horror and fantasy cinema in the past have been cut or improperly handled when released in the United States. Image Entertainment will release all titles in their original, uncut versions.
The initial title in the series will be the 1972 Gothic horror film "Baron Blood," starring Joseph Cotten and Elke Sommer. Subsequent titles will be "Lisa and the Devil" and its alternate version "The House of Exorcism," also starring Sommer, the horror classic "Black Sunday/The Mask of Satan," starring Barbara Steele, Boris Karloff's anthology film "Black Sabbath" (in its original Italian version), the predecessor of modern slasher films "A Bay of Blood," the Gothic horror masterpiece "Kill Baby…Kill!," as well as "The Girl Who Knew Too Much" and "Hatchet for the Honeymoon.' Each DVD release will also include supplemental features, such as audio commentaries, animated menus, trailers, deleted footage, alternate versions and photo/poster galleries.
The titles in both collections will be presented in their original, uncut versions and will be transferred from the best available elements, in their original aspect ratios. Image Entertainment will have the support and assistance of European horror authority and Video Watchdog magazine editor Tim Lucas in obtaining supplemental materials for the collections. Lucas will also be writing liner notes for several EuroShock titles, and all of the Mario Bava titles. Select titles from each collection will also be available on VHS videocassette.