Fox Home Video is releasing the complete Wallace and Gromit on DVD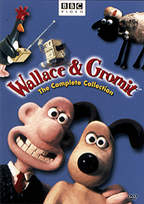 As announced earlier in our release announcements, Wallace & Gromit: The Complete Collection is coming to DVD from BBC Video and Fox Home Video. All three parts of Nick Park's lovable characters will be released on one DVD for release on September 28. Now we have some additional information on this exciting release for the entire family. Created completely in claymation, these two characters will steal your heart, too!
The first Wallace and Gromit short film on the disc is A Grand Day Out from 1992. Suddenly finding himself cheeseless, Wallace goes ballistic, flying his home-made rocket to the moon with Gromit in search of his favorite snack.
In the 1993 Oscar-winning The Wrong Trousers a new lodger, a mysterious penguin, presses Wallace's latest gadget, a pair of mechanical pants, into use in a dastardly crime caper.
In the latest adventure of the duo called A Close Shave from 1995 sheep rustling, love and an evilguard dog ensnare Wallace and Gromit in a malevolent mystery only they can unravel!
Fox Home Video is also adding some bonus material to the disc, and will present Nick Park's earliest animated works "The Rat And The Beanstalk", made when he was just fifteen years old, and "Walter Goes Fishing" to the disc. The release will also contain rarely-seen screen-tests of Nick Park's filmschool work, including "Dog Test" and a test for "A Grand Day Out". In addition, "Wallace & Gromit: The Complete Collection" features an excerpt from the "Making Of" featurette "Inside The Wrong Trousers" and a Wallace and Gromit Christmas interstitial created for BBC television.
Let the fun begin, I say!