Buena Vista Home Video's October covers are here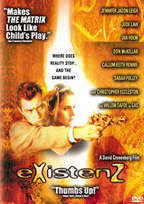 We have just received a number of covers from Buena Vista Home Video's October release line-up.
The titles included are David Cronenberg's eXistenZ, the Rodgers and Hammerstein musical Cinderella, Children Of The Corn 666, 10 Things I Hate About You, and many others. We have prepared them for your viewing please on this page.
All these titles are slated for release through Buena Vista Home Video on October 12 or October 19 respectively, so make sure to catch an early look on these exciting cover artowrks.