Anchor Bay is bringing some of the earlier Alfred Hitchcock films to DVD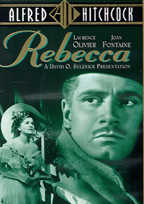 Some time ago Anchor Bay Entertainment had been releasing an Alfred Hitchcock box set on VHS but back then no DVD versions of those films were in sight. Well, today Anchor Bay changed that with their announcement of the early Hitchcock classics Notorious, The Paradine Case, Spellbound and his unforgettable version of Rebecca starring Laurence Olivier and Joan Fontaine. Based on Daphne Du Maurier's novel, this film is the ultimate film version of a tragic, yet exceedingly thrilling story, about a shy woman whose marriage is overshadowed by her husband's first wife who died under mysterious curcumstances.
All films will be released on September 7 at a suggested retail price of $24.98.
Although primarily known for their horror content among DVD aficionados, Anchor Bay is becoming increasingly active in the release of family entertainment through their Disney licenses, and thrillers like these Hitchcock classics.