Who Framed Roger Rabbit is coming to DVD in September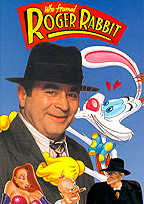 Rumors about an impending release of Who Framed Roger Rabbit have been floating around the web for a while now, and finally we are able to confirm these rumors. We have just received official information about a release of this hilarious action comedy on September 28!
"Who Framed Roger Rabbit?" was a technological breakthrough at the time, masterfully blending live action footage and actors with cartoon characters. The result was a breakneck action comedy that won 4 Academy Awards and took people's hearts by storm. It features toons from Betty Boop to Mickey Mouse, from Bugs Bunny to Daffy Duck, and a few new characters who interact with Bob Hoskins and Christopher Lloyd.
Don't miss the fun when Buena Vista Home Video sends this amazing film your way at a suggested retail price of 29.99, and let's keep our fingers crossed that it is finally a sign that Disney is beginning to roll out those animated films.
Please stop by our Release Section for the full details of this and other releases that have just been announced!