The Tall Man is coming to DVD in September and he brings some friends… the latest from MGM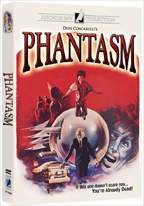 We have just received some detailed information about an exciting upcoming release from MGM Home Entertainment. Horror film fans will be pleased to hear that on September 28, MGM will release a Special Edition of Phantasm on DVD. It will be an extensive special edition containing a commentary track with director Don Coscarelli and three of the film's stars, including Angus Scrimm and Reggie Bannister. 10 minutes of deleted scenes will be found on the release, as well as the film's original theatrical trailer, TV spots and radio spots. An introduction to the film by Angus Scrimm will set the right mood for the release and he will also appear as "The Tall Man" in a 30 minute TV interview with director Coscarelli from 1979. The disc will also contain a still gallery with 100 photographs and images from behind-the-scenes, lobby cards, posters, etc. As a very special treat, MGM is also releasing the long version of the song "Sitting Here At Midnight" on the DVD and a Disco version of the "Phantasm" theme. Rounded up with footage from a Fangoria convention where Angus Scrimm talked about"Phantasm", this special edition will clearly be a must-buy for every horror fan.
"Phantasm" will carry a suggested retail price of $34.95 and come with a completely new re-mixed 5.1 Dolby Digital soundtrack in a letterboxed version. Unfortunately no hi-def master was available to allow for an anamorphic transfer, but according to MGM the quality of this rather new transfer is absolutely stunning.
As part of MGM's August release line-up, we will also see the original Child's Play as a regular edition without extras and in an open matte transfer – no widescreen transfer is available at all according to MGM. As part of their September line-up we will then see George A. Romero's The Dark Half in a fullscreen presentation, as well as Romero's Monkey Shines: An Experiment In Fear contain a pan & scan presentation as well as a 16×9 enhanced widescreen version.
For all Western fans, MGM Home Entertainment is also preparing a delicious goodie. Later this year, we will see a Clint Eastwood Collection, a 3 disc box set priced at only $59.95. The set will contain the Eastwood classics The Good, The Bad And The Ugly, A Few Dollars More and for the first time on DVD, Fistful Of Dollars! Yeehhaah!