Take a look at the cover of Warner Home Video's Analyze This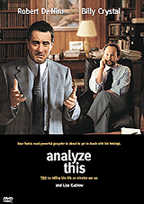 On August 17, Warner Home Video will release Analyze This on DVD and once again we are able to give you an exclusive early look at the cover artwork of the release. Please click on the image on the left for an enlarged version of the DVD's cover.
"Analyze This" stars Robert DeNiro as a stressed out crime lord and Billy Crystal is his put-upon psychiatrist who is recruited to help him – or else! It is a hilarious crime-comedy written and direct by Harold Ramis, who most of you certainly remember as Dr. Egon Spengler from the "Ghostbusters". Featuring an interesting and mesmerizing cast, including Lisa Kudrow as Crystal's wife-to-be, this film is one of the few occasions where Robert DeNiro can actually display his comedic talents – apart from his sporadic Saturday Night Live appearance with Joe Pesci. Running 103 minutes, "Analyze This" will carry a suggested retail rpice of $24.98 and contain an anamorphic widescreen transfer of the film, as well as a 5.1 channel Dolby Digital soundtrack.