Take a look at some James Bond gadget menus from the upcoming Special Editions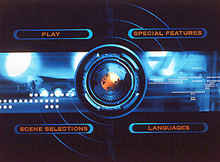 Right after yesterday's announcement of the details for the spectacular upcoming special editions of the first batch of James Bond movies from MGM Home Video came in, we have been able to secure some screenshots of main menu screens for you. On the left you can see the main menu for GoldenEye. It is a gadget menu like the one found in the limited special edition of Tomorrow Never Dies which had been released some time ago. Apart from the menu for GoldenEye, we also have shot of the main menu of Goldfinger and as you can quickly see is that MGM is obviously following a line-look with the disc's menus. I wouldn't be surprised if they'd also installed a complete line-lookfor the packaging of all the parts in the series.
If you haven't checked out all the details of these forthcoming special editions, make sure to check our Release Schedule of the Film Vault for all the details on these exciting discs. They are poised to blow you away with their irchness of bonus materials and their brand new 16×9 enhanced transfers.