Take a look at Cartman and the rest of the bunch from South Park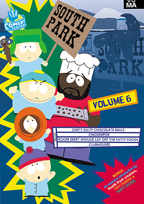 On October 12, Warner Home Video will release another 3 disc's of South Park episodes to complement the three already released discs. Each disc will contain four episodes of the highly popular, subversive comedy series.
The episodes found on these discs will be "Cartman's Mom is a Dirty Slut", "Cartman's Mom is Still a Dirty Slut", "Chicken Lover", "Ike's Wee-Wee", "Conjoined Fetus Lady", "The Mexican Staring Frog of Southern Sri Lanka", "Flashbacks", "Summer Sucks", "Chef's Salty Chocolate Balls", "Chickenpox", "Roger Ebert Should Lay Off the Fatty Foods", and "Clubhouses".
Please click on the image to the left for a look at all three covers of these upcoming "South Park" discs.