Ready to rumble with HBO's Muhammad Ali Collection and Spawn Compilation?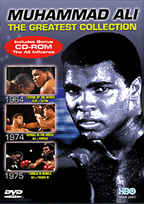 We have just received information on two exciting releases from HBO Home Video coming your way on October 5. First there is the Muhammad Ali Collection, a compilation of three of his most memorable fights from 1964, 1974 and 1975. The release will also contain the hour long featurette Muhammad Ali: Boxing's Best, plus a bonus DVD-ROM disc containing The Ali Influence, an exclusive featurette showing the impact Ali has had on today's fighters, like Oscar de la Hoya, Prince Naseem Hamed, Lennox Lewis and others.
Another collection is coming to DVD through HBO on October 5. A three-disc box set called Spawn: The Ultimate Collection. Containing Todd McFarlane's animated films "Spawn", "Spawn 2" and "Spawn 3", as well as an additional DVD-ROM disc with an exclusive interview with Spawn creator Todd McFarlane, and a featurette called "In The Mind Of Todd McFarlane" beside other bonus materials. The box set will carry a suggested retail price of $69.95 when it hits retail on October 5.