Jodorowsky's Fando & Lis is coming to DVD through Fantoma Films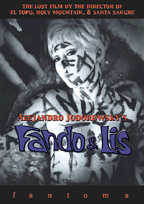 On September 7, Fantoma Films, a new independent publishers of DVD content will release Alejandro Jodorowsky's Fando & Lis in a DVD special edition.
Considered lost for nearly 30 years, Alejandro Jodorowsky's "Fando & Lis" had its premiere at the 1968 Acapulco Film Festival. What should have marked the arrival of a new master of the surreal instead degenerated into a full-scale riot on the festival floor. The director barely escaped with his life and the festival was closed.
Fantoma will now release the director's cut in the film's original 1.66:1 widescreen aspect ratio from the original 35mm negative with a running length commentary track by director Alejandro Jodorowsky. The disc will also contain a feature length documentary called "Constellation Jodorowsky" on the life and art of Alejandro Jodorowsky featuring interviews with Peter Gabriel, Marcel Marceau, artist Jean "Moebius" Giraud and playwright Fernando Arrabal, and a full-color reproduction of the original 8-page handbillgiven out at the film's premiere.
"Fando & Lis" will carry a suggested retail price of $39.95. Please click on the image to the left for an enlarged version of the release's cover artwork.