Exciting new details on Argento's The Bird With The Crystal Plumage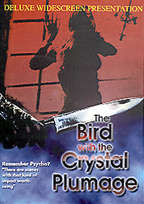 Great news for all Argento fans! After unveiling VCI Home Video's plans to release Dario Argento's directorial debut The Bird With The Crystal Plumage on DVD in September, we have now received some updated information.
The company's original announcement stated the film would be presented in its theatrical, PG-rated version, much to the dismay of a number of our readers who wrote to us in large numbers.
After following up with VCI on the issue, we have now been able to find out about some exciting events. The availability of new material has changed VCI's plans slightly.
The DVD will now contain the same cut of Argento's film as presented on the VCI-licensed Roan Group Laserdisc, however VCI will create a brand-new 16×9 enhanced transfer directly from the film's negative for this DVD release! According to VCI, the plans changed because materials were located that were thought no longer available. Isn't it great how more and more smaller studios fully commit toDVD and give their releases the best visual treatment possible?