Cult director Dario Argento's directorial debut is coming to DVD in September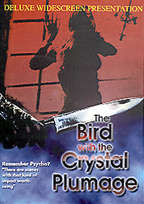 VCI Home Video has just announced the release of Dario Argento's directorial debut, The Bird With The Crystal Plumage on DVD in September.
Although no exact street date has been announced yet, we already have the details and the cover artwork for this DVD for you. If you click on the image to the left, you'll be able to see an enlarged version of the release's box art.
"The Bird With The Crystal Plumage" is a film about a Jack-the-Ripper type of maniac who slithers around the dark byways of Rome, brutally slicing up pretty girls and carving the emotions of its viewers. This horror thriller was cult director Dario Argento's directorial debut and became a trend setting movie in the giallo genre. VCI Home Video will release this 1970 film in its original 2.35:1 widescreen version with a new Dolby Stereo soundtrack. The disc will also contain the film's original theatrical trailer, biographies and previews.
Also in September, VCI will release the Gene Wilder and Margot Kidder comedy/love story Quackser Fortune Has A Cousin In The Bronx on DVD in a widescreen presentation. Quackser follows the horses around Dublin selling their droppings for gardening. The day the horses are banned from the streets he falls in love with an Amercian coed.
Both discs will carry a suggested retail price of $24.99 and the only thing we can hope for now is that VCI Home Video is showing the same exemplary DVD quality with these releases as they did with "Devil's Rain" earlier, which looked absolutely breathtaking.