A&E Home Video brings you even more original Avengers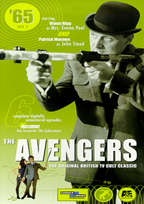 We have just received information from A&E Home Video about more DVD releases of their famed British cult series The Avengers. On August 31, expect the sexiest, kinkiest and most outlandish Avenger episodes to hit DVD. The Avengers "66 Collection is coming featuring black & white classics from season 4, including the fan favorite A Touch Of Brimstone. This particualr episode was originally banned from American television, but now you will have the chance to own it on DVD.
"The Avengers "66 Collection" will come in two collector's boxed sets. The first one will include "Silent Dust, Room Without A View, Small Game For Big Hunters, The Girl From Auntie, The 13th Hole" and "Quick-Quick-Slow Death". The second set will include "A Touch Of Brimstone, The Danger Makers, What The Butler Saw, The House That Jack Built, A Sense Of History, How To Succeed… at Murder" and the bonus episode "Honey For A Prince".
It's getting better though. Also on August 31, A&E Home Video will release 2 boxed sets filled with original Avenger '65 episodes from the year the Peel and Steed duo first took the world by storm.Episodes included will be "To Town Of No Return, The Gravediggers, Death At Bargain Prices, Castle D'eath, The Cybernauts" and many more.