A first look at the upcoming Phantasm's cover and menu screen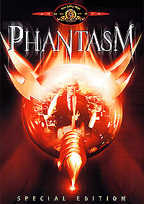 As we had reported earlier this week, MGM Home Entertainment is currently preparing a special edition release of the horror cult film Phantasm on DVD on September 28. Apart from all of the release's details we had uncovered in our previous article, we now have received the DVD's final cover artwork which you can see on the left. If you click on the image you will be able to bring up an enlarged version of the packaging, which will give you a much better look.
We have also been able to get our hands on a screenshot from the disc's main menu at this time, and if you click here, you will be able to take a look for yourself at the spooky screen.
We are especially impressed with the stunning cover artwork MGM Home Entertainment has come up with for this release. It is not only very flashy and sharp, it somehow also captures the essence and flair of the film quite nicely.