We have the full range of Paramount covers for you – take a look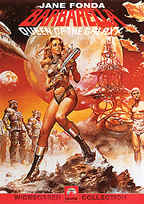 We have been able to scoop a look at the entire upcoming June release line-up from Paramount Home Video for you. The colorful cover for Barbarella on the left is only one out of 8 front and back covers we have for you. Please click on the image to get to the page with all of them.
Coming on June 22, there is The Parallax View, Barbarella, Nick Of Time and A Simple Plan, and on June 29, Paramount will follow these releases up with Gallipoli, Witness, School Ties and Varsity Blues. Please click here to get to our full page of Paramount covers, or click here to get to our acclaimed "Film Vault" where you can find more detailed information on each of these titles.