We have some Buena Vista menu screens for you – take a look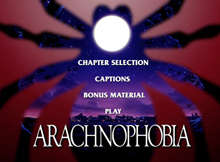 The good folks from DVD Expression just released some screenshots for some of the upcoming Buena Vista DVDs. On the side you can take a look at the very atmospheric menu from Arachnophobia, but if you click on the image you'll get a full size look at it, as well as the main menu for Oliver Stone's Nixon.
Both titles, as well as a number of other films, like The Faculty, Enemy Of The State and Brassed Off will be released on June 15 by Buena Vista, before Clerks, Rushmore and other movies will hit retail on June 29.