Unwrap the Mummy and other Classic Universal Monsters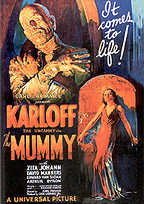 The fact that Universal Home Video is currently preparing their summer blockbuster The Mummy for a release on DVD is hardly surprising to anyone, but today we got word directly from Universal about some additional exciting developments surrounding the release. Originally planned for a release in September, the disc is likely to slip into October due to a number of holdups. Universal will release "The Mummy" in one of their glorious Collector's Editions to take viewers behind the scenes and allow them a close look at the creation of the special effects. To complement the release of Imhotep's new incarnation, Universal has also decided to release the original "The Mummy" from 1932 starring Boris Karloff on the same day. Now that's great news, isn't it, especially since it will be the recently restored version of the film that was released on VHS a few months ago.
The monster party doesn't end here though, because Universal makes sure to sweeten all DVD owners' Halloween this year with the release of a number of others of their Classic Universal Monsters. Expect Béla Lugosi to rise from his grave in the 1931 classic Dracula, and Colin Clive to shout in ecstasy in James Whale's original Frankenstein. We will keep you posted as more information becomes available. For now, here's a look at
the original film poster of the classic "The Mummy" as used on the VHS release, which will most likely also grace the DVD version. Please click on the image to the left for a full
look at the original theatrical poster artwork's glory.