The Pink Panther returns from Artisan Entertainment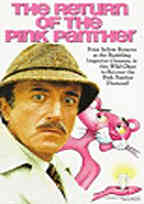 After MGM Home Entertainment had successfully launched 4 parts of the Pink Panther series a little while ago, Artisan has decided to throw in the film from the series they own, and announced The Return Of The Pink Panther for release on DVD on July 20.
In "The Return Of The Pink Panther" Peter Sellers returns as the as the bumbling and ever-fumbling Inspector Clouseau in a wild chase to recover the Pink Panther diamond with lots a big gags along the way. Christopher Plummer and Herbert Lom co-star in this 1975 feature film.
Artisan will release "The Return Of The Pink Panther" in an anamorphic widescreen transfer with a Dolby Digital Stereo soundtrack. The disc has been digitally remastered and will also contain the film's theatrical trailer.
For all the details on this and other upcoming releases, please check out our Release Listings or our Film Vault.