Take a close look at Buena Vista's July titles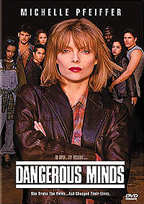 We have been able to obtain the covers for some of Buena Vista Home Video's DVD releases in July. As you certainly remember, Buena Vista is turning on the heat with over 15 releases for July, and we can offer you a look at nine of them.
Dangerous Minds, Down In The Delta, The Associate, Little Buddha and Spy Hard are only a few of the exciting titles Buena Vista is sending our way in the heat of the summer, so make sure to stop by and take a look at the covers we have prepared for you.