More exclusive Ghostbusters video stuff to download…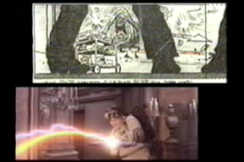 Just like a little while ago, we have been able to prepare yet another exclusive AVI vdeo file for you for download, showing one of the unique features of the upcoming DVD release of Ghostbusters from Columbia Home Video.
"Ghostbusters" and "Ghostbusters 2" will make their DVD debut on June 28 as a spectacular special edition, filled with some of the most ambitious DVD content to date. In the video we have for download you will see the storybaord to movie comparison that uses an interesteing split-screen approach to display both elements atthe same time. The file size is 1.5 MB, so it may take a few minutes to load, depending on your Internetconnection, but once loaded, you too can take a real look at this special feature this upcoming release. Please click on the image to the left to download the full AVI file.