Here's the deal on Anchor Bay's Army Of Darkness – and more!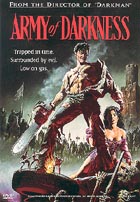 After we had uncovered more news on the upcoming Army Of Darkness Special
Edition from Anchor Bay for release later this year, we just been able to
obtain more exclusive information on this exciting release that will have fans
of the "Evil Dead" trilogy salivating!
As mentioned before the disc will contain 2 cuts of the film and finally we
have been able to find out which ones. Coming on 2 separate discs, the box set
will contain the 85 minute US version of the film and the 96 minute
international cut with a different ending. The US cut will definitely come in a
16×9 enhanced, THX certified transfer. For the international cut Anchor Bay is trying to also have it certified, but they are not sure if the quality of the available transfer will be able to live up to the THX standards. Either way, the transfer will be as good as can be.
If everything goes well, the "Army Of Darkness" Special Editon could contain
between 2 and 3 hours of additional material, although much of that is still
in legal limbo and needs to be determined and finalized. The same is
unfortunately true for the short film "Within The Woods" that Anchor Bay would
like to put on the release. There are legal issues surrounding the film's
soundtrack as no one seems to know who owns the rights to the music. With that
issue unresolved, Anchor Bay can not release the film. So let's hope this
issue gets resolved in time so that the we can finally all lay our eyes on the
film that started it all.
Here comes the "Evil Dead" fun part… Evil Dead 2 is currently readied for THX certification. Anchor Bay will re-release "Evil Dead 2" next year in 16×9 enhanced version, completely THX certified and looking at their current
special editions, one can only wonder what supplements they will stick onto
that release. To drive the entire series home, Anchor Bay will also re-release
the first film in the series, Evil Dead in a THX certified version in the
summer next year! Now that's what I call serious commitment.