Go! Columbia, Go! some new titles on the way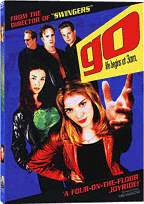 We have just received word on some new Columbia titles coming your way on August 24.
The hip comedy Go! will come to DVD in a widescreen and pan&scan version, including a commentary track by the director and editor, a "Making Of" featurette, 14 deleted scenes, 3 music videos, the film's trailer and cast/crew biographies at a retail price of $24.95.
Also Dream Life of Angels is coming in widescreen with the original French soundtrack and English, French and Spanish subtitles for $27.95
Finally the touching Sense and Sensibility starring Emma Thompson is finding its way to DVD as well. An August 24, we can experience the film on DVD in widescreen, with an audio commentary by Emma Thompson and producer Lindsay Doran, another audio commentary by director Ang Lee and co-producer James Schamus, as well as Emma Thompson's Golden Globe acceptance speech, and some deleted scenes.