EXCLUSIVE – The Titanic details are here – and the cover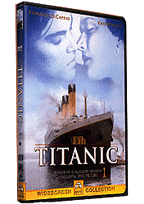 The moment we have all been waiting for has finally arrived! We have just received exclusive information regarding Paramount Home Video's release of Titanic, including the box cover artwork, as you can see on the left hand side. Please click on the image for an enlarged version of the cover.
Carrying UPC#0-9736-155227-9, "Titanic" will sail to DVD at a suggested retail price of $29.99 on August 31. The disc will contain a Dolby Digital 5.1 channel soundtrack, a Dolby Surround track, as well as a French Dolby Surround track. subtitles will be supplied in English and Spanish. The disc will feature dynamic interactive menus, contain the original theatrical trailer, and a THX certified widescreen transfer. We are unable to determne at this point whether the disc will feature a 16×9 enhanced transfer or not, but considering Paramount's current releases, we'd say it is certainly safe to hope it will be.
This is not a rumor, folks! This is the real deal!