Exclusive menu screen shots from The King And I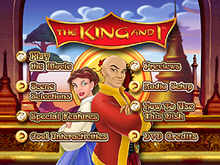 If you haven't checked out our recent interview with Mark Berger, the Executive Music Producer of Warner's upcoming family hit The King And I, you might have missed to see the exclusive menu screenshots we have there. To whet your taste a little, here's a look at the disc's main menu. If you visit our interview not only will you learn a lot about the production of the "King And I" DVD, but you'll also have a chance to see more of the disc's colorful menu screens.
In the interview Mark Berger reveals much about the approach he took to create the special materials for this release and how they will look like in the final release. He sheds light on hiow they reworked the classic Rodgers and Hammerstein tunes to work in an animated feature film, and much more. Stop by and take a read for yourself, and check out the other menu screens. We're sure you'll enjoy it!