Army Of Darkness is finally getting off the ground at Anchor Bay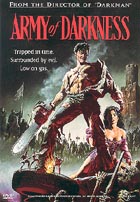 We just got more information in on one of the most anitcipated horror special
editions of the year – Sam Raimi's third installment in the Evil Dead trilogy,
"Army Of Darkness".
As we had exclusively revealed on these pages in December last year already,
Anchor Bay is creating a special edition for this film. Although
no exact streetdate has been determined, Anchor Bay informed us that work on
the release has finally begun – and here are some frightful facts for this
upcoming release!
The "Army Of Darkness" Collector's Edition will contain
both cuts of the film on one disc, completely THX certified. The disc will
also contain the film's alternate ending and other supplements. Currently
plans are to put "Within the Woods", the short film that lead to the creation
of the original "Evil Dead" on the release as well. The disc will also contain
numerous commentary tracks, one with Bruce Campbell, one with the special
effects gurus from KNB and hopefully one with director Sam Raimi – Anchor Bay
are still negotiating that one. We will keep you posted.