Anchor Bay's first 16×9 enhanced disc hits retail on July 20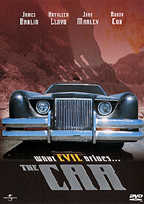 As we had announced earlier in our Release Listings, Anchor Bay is releasing The Car on video for the first time ever – including a stunning version on DVD. The DVD release will feature a 16×9 enhanced widescreen transfer as well as a pan & scan version of this film, starring James Brolin, Kathleen Lloyd, John Marley and Ronny Cox. It is great to see that Anchor Bay is giving the film the full anamorphic treatment to make sure its first video incarnation will be an impressive one. It is once again a clear indication that Anchor Bay is becoming more and more of a very serious and ambitious contender in the DVD market.
Please click here or on the image to the left to see the full front and back cover artworks for this and other upcoming Anchor Bay titles, including Out Of The Blue and Happiest Millionaire. Interestingly, Anchor Bay has decided to release the widescreen version and the pan & scan version of "Happiest Millionaire" separately. The widescreen version is called "The Roadshow Version" and contains 20 minutes of additional footage, and restores the original theatrical Overture and Intermission.