An exclusive look at the Nightmare on Elm Street box set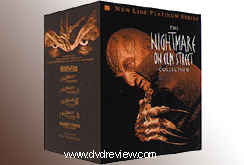 Many of you have been waiting for this moment, I believe and we are proud to once again unveil exclusively on these pages the artwork for one of the most anticipated DVD releases of the year.
The Nightmare On Elm Street box set is hitting retail just in time for Halloween. At a retail price of $129.98, the box set will contain all 6 parts of the series plus Wes Craven's inventive installment New Nightmare. According to New Line, this has been their most ambitious DVD project to date, including 3D DVDs – what that is we have to wait and see, I'm afraid – 2 commentary tracks, an 8th disc full of cast and crew interviews, extensiveDVD-ROM content and much more.
As you can see from the image on the left, the box design is prominently featuring Freddy in his revamped "New Nightmare" incarnation. Please click on the image for an enlarged version.
While we're speaking of box sets, Warner and New Line have also announced a number of box sets, scheduled for release on September 7. Here's the list – The Robert DeNiro Collection at $119.92, containing "Wag the Dog", "Heat", "Analyze This", "GoodFellas" and "A Bronx Tale".
The Steven Seagal Collection sold at $99.92, containing "Under Siege", "Under Siege 2", "Hard to Kill" and "Above the Law". Then there's the Full Force DVD Gift Set at $99.98, with "Blade", "Rush Hour", "The Corruptor" and "Spawn: The Movie". And last, but not least, there is the DVD F/X Box Set at $74.98, featuring "Lost in Space", "Dark City", and "The Lawnmower Man".