A peek at Universal reveals the classic Frankenstein and The Mummy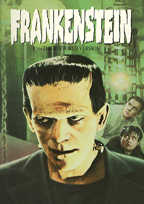 Universal has just announced a number of new titles for release in August, and also added information on the upcoming Collector's Edition of The Mummy.
On August 17 we will see EdTV, Grace Of My Heart and a DTS version of Virus. All three will contain a 16×9 enhanced versions, and apart from the obligatory trailers and production notes, "EdTV" will come with a commentary track by director Ron Howard and writers Lowell Ganz and Babaloo Mandel, "Caught in the Camera's Eye", an original featurette on the making of the film, deleted scenes and outtakes. "Grace Of My Heart" will also come with a commentary track.
Great stuff, but the highlight is the original Frankenstein as the first of the Universal Classic Monsters on DVD, also hitting the streets on August 17. Coming in its newly restored version, the disc will contain a 2 channel Dolby Digital Mono soundtrack, an audio commentary track and a documentary.
Last but not least, Universal has also unveiled details about the Collector's Edition of this summer'sblockbuster The Mummy. Coming on September 28, the disc will contain an extensive 40-minute documentary called "Building A Better Mummy" with onscreen interviews with director Stephen Sommers, visual effects supervisor John Berton and the crew at Industrial Light & Magic. It will also contain a commentary track with director/writer Stephen Sommers and editor Bob Ducsay. Further the disc will feature numerous deleted scenes, the film's theatrical trailers, Jerry Goldsmith's full score isolated on a separate audio track, a collection of facts about ancient Egypt and Egyptian mythology and much, much more, like postcards, an interactive game and screensavers.