The Star Wars soundtrack is available NOW!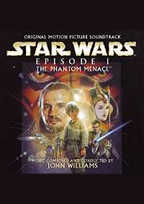 Believe it or not, the entire Star Wars fandom is in a frenzy as some of the hottest news just came in. We have received word directly from Sony Music that the soundtrack for Star Wars: The Phantom Menace is in stores NOW!
Two weeks earlier than originally anticipated, Sony Music is proud to let all fans know, that they should be able to obtain John Williams" brand new score in stores across the world today!
You can also order the disc directly from Sony Classical's website, where the company also offers other interesting audio CDs for your convenience.
The site contains complete track listings, sound clips, cover art, a message from John Williams and George Lucas, art from the film, video clips of John Williams about the making of the soundtrack, and more! The site will continue to be updated and change during the next few weeks!