The Prizzis rule while Woody Allen takes the money and a run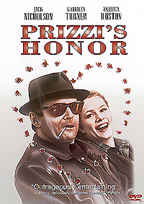 Anchor Bay just announced another four titles for release on June 15. Lead by Jack Nicholson, Kathleen Turner and Anjelica Huston, the outrageously entertaining Prizzi's Honor is one of the releases. Please click on the image to the left for a close-up look of the entire box artwork.
For Love Of Ivy is the second release in the incredible line-up, starring Sindey Poitier and Beau Bridges in an irresistible romantic comedy about a housekeeper turning ambitious.
Then there is Woody Allen's Take The Money And Run, the filmmaker's first original feature film. Dry and witty, this pseudo-documentary will have you laughing too, as intelligent comedy hardly gets better than this.
To round up the line-up, Anchor Bay is also releasing the touching story of Karen Silkwood. Starring Meryl Streep, Kurt Russell and Cher, this film contains one of Streep's most powerful and compelling performances, and also presents us Cher in her breakthrough role. Nominated for five Acamdey Awards, "Silkwood" is a film that should not be missed.
All discs carry a $24.95 suggested retail price and contain the original widescreen versions, as well as pan & scan presentations.