Take a look into the October Sky with us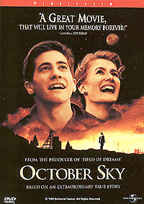 On July 27, Universal Home Video brings one of the most touching true storys to life on your DVD player. October Sky will be released featuring a 16×9 enhanced widescreen transfer and a pan & scan transfer, as well as a 5.1 channel Dolby Digital soundtrack. In addition, a commentary track by director Joe Johnston, a featurette, production notes, talent bios, and the film's theatrical trailer will round up this day & date release.
In Coalwood, West Virginia, all the boys grow up to be coal miners and Homer
Hickam has no reason to think he'll be any different. Too small to earn a football
scholarship, Homer has no way out of his predetermined life–until the Soviet satellite
Sputnik flies over the October sky and changes everything. It's 1957 and Homer's
world just got a lot bigger. Though his father is mine superintendent and has no greater
wish than to see his sons follow in his footsteps, Homer embarks on a mission to build
and launch his own homemade rockets with the help of his loyal band of friends.
Though their frequent mistakes nearly get them shut down, their successes inspire the
whole town to believe that miracles can happen even in Coalwood, and there's nothing
wrong with shooting for the stars.