Take a look at Warner's animated movie The King And I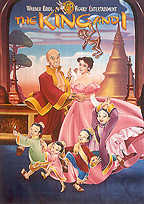 We have just been able to obtain the cover artowkr for Warner home Video's upcoming animated feature film The King And I, slated for a release on DVD on July 6. This animated version of the Rodgers and Hammerstein classic will contain trailers, TV spots and biographies, as well as a "Creative Room", allowing viewers to explore the internal creative process of selected scenes. Viewers will be able to witness the animation and musical score develop from the early stages to full-blown animation with a majestic score.
The disc will also contain a Sing-Along feature, a Karaoke function, a featurette with the vocal stars of the movie and much more. Released on a dual-layer disc, "The King And I" will also feature a 5.1 channel Dolby Digital soundtrack and retail at a $24.98 price.
To round up the release, Warner Home Video and Princess Cruises will also launch a "Win A Trip To The Southeast Asia" sweepstakes, so look out, maybe you will make a 14-day cruise with your entire family to enjoy the Asian landscape and culture.
Please click on the image to the left for an enlarged version of the disc's cover artwork.