Norman Bates is coming your way – take a look with us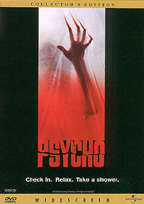 On June 6, Universal Home Video is releasing Gus Van Sant's shot-for-shot remake of the landmark film by Alfred Hitchcock. The film was reason for many a heated discussion and still, Van Sant's intentions are dubious.
Psycho presents an unpredictable and violent world in which good doesn't always triumph and evil sometimes hides in plain sight. The film does away with conventional heroes and heroines, slashing the very notion to bits and pieces. It is the terrifying story of a troubled man whose victims encounter a grisly fate as a result of the conflict between a young man and his mother.
Presented in a 16×9 enhanced version, "Psycho" will also contain a 30 minute Documentary, a commentary track with director Gus Van Sant – which will hopefully shed some light on his original intentions – and screen savers, as well as the obligatory production notes and cast & crew biographies.