No flu-shot will help cure this Virus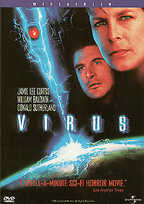 On July 20, Universal Home Video will unleash a virus of a special kind onto unsuspecting DVD audiences. Virus, the terrifying science fiction nightmare starring Jamie Lee Curtis, William Baldwin and Donald Sutherland will hit the shelves in an 16×9 enhanced widescreen version, including a 20-minute "Making-Of" documentary and an 8-minute featurette, deleted scenes, trailers, a screen saver and a running length commentary track by director John Bruno.
Instead of being a virus movie about some terrible disease, this one is about computers that have been taken over by an alien lifeform, with the added thriller element of a number of characters being stuck in a confined place. Featuring an array of special effects, supervised by Academy-Award winner Phil Tippett, "Virus" is a super-charged combination of action, suspense and spectacular visual effects.
Please click on the image to the left to view an enlarged version of this exciting release's cover artwork from Universal Home Video.