Ghostbusters animated menus revealed here exclusively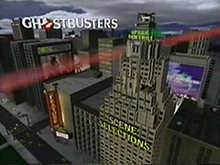 On June 28, Columbia Home Video will release the eagerly anticipated comedies Ghostbusters and Ghostbusters 2 on DVD. Starring Dan Aykroyd, Rick Moranis, Bill Murray and Harold Ramis, this action filled comedy will come in a spectacular special edition from one of Hollywood's leading DVD publishers and will be filled with some of the most ambitious DVD content to date.
Now we have the exclusive chance to grant you a look at the beautifully animated menus from the disc that take you right into the world of the Ghostbusters. Gorgeously rendered and completely immersive, these menus integrate perfectly with the actual movie. We have created an AVI movie file for you to download and take a look for yourself. The file size is 1.5 MB, so it may take a few minutes to load, depending on your Internet connection. Once loaded, you too can take a real look at these high quality menus from the upcoming "Ghostbusters" DVD. Please click on the image to the left to download the full AVI file.