Take a look at the Special Edition of Elizabeth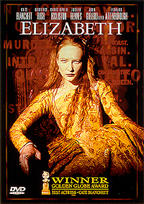 We have been able to bring you an early glance at the cover of the upcoming Special Edition of Elizabeth from Polygram. Please click on the image on the left to see an enlarged version of the disc's cover artwork.
This highly acclaimed movie takes you to the intrigue and treachery in the court of one of history's greatest monarchs, England's infamous and fiery Queen Elizabeth I. You witness how the young queen learns to deal with politics amidst the pomp and pageantry of England's royal court, and the blood thirstiness of her own people at the time.
Boasting an incredible cast and breathtaking cinematography, "Elizabeth" was without a doubt one of the best films of last year, and wowed audiences and critics alike. Coming in a 16×9 enhance widescreen version, this disc will also contain a "Making Of" documentary, as well as a running length commentary track with the filmmakers.
Make sure not to miss the spectacular film when it hits DVD on May 25!