Take a look at the Dawn Of The Dead Liner Notes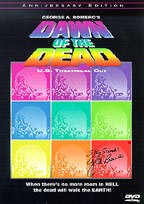 Soon, the theatrical cut of George Romero's apocalyptic zombie trilogy, "Dawn Of The Dead" will hit DVD. The film will be presented on a dual layer disc for uninterrupted playback and the image quality is simply outstanding. Much sharper, revealing more detail than previous versions, and presented in the film's original 1.66:1 aspect ratio, this release will surely satisfy even the most demanding Romero afficionado with its unparalleled quality.
We have been able to scoop the liner notes that will come inside the disc for you and are proud to present them to you here on our pages. Please click on the image on the left to get a full look at these liner notes.
This release of "Dawn Of The Dead" will also contain alternate scenes from "Zombi," the European version of the film, the original heatrical trailer as well as a TV commerical of the Monroeville Mall, where the film has been shot.
Please check out our "Film Vault" for all the details on this upcoming release.