Panasonic to launch smallest portable DVD player with LCD-screen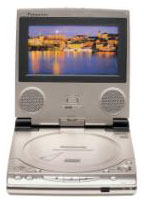 Panasonic Consumer Electronics Company announces its latest triumph in DVD technology — the new DVD-L50 PalmTheater(TM) portable DVD player. The miniature miracle is even more compact and versatile than last year's celebrated DVD-L10 (hailed by many as the "coolest gadget of 1998"), making it the world's smallest and lightest portable DVD player with a built-in LCD screen. Like its predecessor, the DVD-L50 puts all the incredible video and audio performance of DVD right in the palm of your hand.
The DVD-L50 weighs under 2 pounds (without battery.) With the battery attached, it weighs just 2.07 lbs. It measures 5.51 inches by 5.96 inches and is less than 2 inches thick. The portable player features a built-in, 5″ LCD monitor with 280,000 pixel resolution for outstanding picture quality with a wide viewing angle. The touch of a button lets you select either the 4:3 standard TV screen dimension or the 16:9 widescreen aspect ratio supported by most DVD titles.
The player features S-Video output, composite video outputs, and direct digital audio output forconvenient connection to a TV and audio system for home enjoyment. The DVD-L50 also provides the advanced audio features needed to completely appreciate the DVD experience. Its 96 kHz, 24-bit audio DAC produces optimal sound quality whether you're playing a CD or DVD disc. The player also features output for both DTS and Dolby Digital decoding.
The Panasonic DVD-L50 PalmTheater portable DVD player carries a suggested retail price of $1,099.95, and is slated for introduction in May, 1999.