MGM unleashes the Scalper on June 15 in Just The Ticket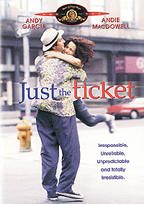 MGM Home Entertainment has just announced to release their romantic comedy Just The Ticket on DVD day & date with the VHS cassette on June 15. It is a lighthearted comedy about a con artist and his witty schemes to win the love of his life. Based on the original short-film "The Scalper", this film stars Andy Garcia and Andie MacDowell.
The "Just The Ticket" DVD will be available widescreen version and features a full-length audio commentary by Andy Garcia and writer/director Richard Wenk, as well as never-before-seen footage. In addition, the DVD includes the original theatrical trailer, a 4-page Booklet and the original short film "The Scalper".
Please click on the image to the left for an enlarged version of the disc's cover artwork.