Get an Austin Powers Martini Glass, baby!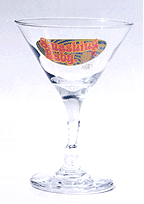 The folks over at New Line have just informed us that after months of waiting, their fabulous Austin Powers martini glasses have finally arrived in their online shop. There are four different styles, and each one of them features a groovy "Z"-shaped stem, instead of the usual straight stem.
Also, they tell us, that the new Austin Powers talking key chain has arrived and is in stock, which is reportedly one of the hottest items around.
If you're interested in this merchandise, or any other New Line related merchandise, you should definitely take a look at their online shop.